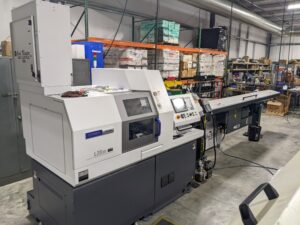 Alloy Precision Technologies recently expanded its CNC operations with the installation of a Citizen Cincom L20XII Swiss turning center. The latest in a long list of investments in new technologies, this new 9-axis turning center provides additional machining capabilities and opens up a range of new applications for the company.
The bar-fed, Swiss-style lathe provides additional machine rigidity during the cutting process and features Citizen LFV (Low Frequency Vibration) cutting technology that reduces chip sizes compared to conventional cutting. This combination allows for the production of small, complex parts at a 3:1 length-to-diameter ratio with fast, efficient cycle times—all while maintaining the tight tolerances and high quality that Alloy Precision Technologies is known for.
"Innovation is one of our core values; we're always looking for ways to improve our capabilities and what we offer to our customers," said Tim Davis, Director of Sales, Marketing, and Engineering. "This new machine is a fantastic way to do just that while staying true to our foundation of precision and quality."
With milling, threading, drilling, boring and turning operations, the lathe has the flexibility and versatility for a wide range of tasks. Alloy Precision Technologies is able to use the new equipment to produce parts in both common and 'exotic' alloys, including stainless steel, Monel, Inconel, Hastelloy, titanium, and yellow metals.
Alloy Precision Technologies is committed to continuously improve their products and services to exceed customer needs and with this new addition, they are better positioned to do just that across the medical, aerospace, defense, and fuel system markets.
—
For more information about Alloy Precision Technologies new Swiss CNC capabilities, contact us today.